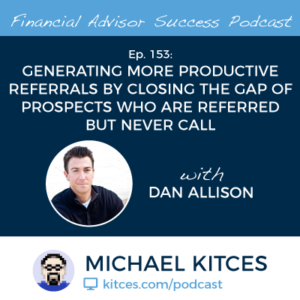 Welcome back to the 153rd episode of Financial Advisor Success Podcast!
My guest on today's podcast is Dan Allison. Dan is the founder of Feedback Marketing Group, a marketing and sales consulting firm that helps financial advisors to increase their growth by teaching methods to actually generate more referrals from existing clients.
What's unique about Dan, though, is the way he approaches the challenge of referrals with a background in clinical and behavioral psychology, an approach that's focused specifically on how to reduce the client's own mental and other barriers to make it easier for them to provide effective referrals in the first place. Based on his discovery that, in the end, the problem for most advisors is not that their clients aren't referring them actively, but that there's a gap to be closed between how often clients refer and how often that referred person ever actually follows through to contact the financial advisor for help.
In this episode, we talk in-depth about Dan's approach to referrals and the five key points he focuses on helping to generate more and more productive referrals:
Making sure that you are really offering the services your clients want and would be willing to refer, recognizing that, unfortunately, not all advisors actually provide services worth referring in the first place;
Ensuring that clients are well educated about your firm and the full breadth of what you really do, given that clients will often only think of their advisor services based on what the advisor did for them personally and not actually the full range of the advisor services;
Communicating that you're actually looking to help more people and have capacity, and the kind of people that clients should be trying to spot that would be a good fit for you;
Working with the client to figure out if they do refer someone, what their introduction strategy will be to ensure that you'll actually be able to connect with and have a chance to help that referral; and
Categorizing your own clients to figure out who the potential referral goldmines might be, and more importantly, who the referral landmines are that, once identified, you'll simply know not to ever have the referral conversation with anymore.
We also talk about the fundamental dynamic of client referrals themselves. Why the "I get paid in two ways" or "the greatest compliment you can give me is a referral" and similar approaches that try to guilt clients into feeling like they should be obligated to give their financial advisor referrals is mostly doomed to fail, the difference between transactional referrals versus relationship referrals and how the very nature of client referrals has changed as the financial advisor business model has changed, but why even in a relationship model, it's not enough to simply serve your clients well and wait, hope and pray that they'll start sending you referrals, because, as most advisors know, that often doesn't really happen in reality.
And be certain to listen to the end, where Dan shares some of his own journey as someone who built and sold an incredibly successful business while still in his 20s, the somewhat random way that he landed in the financial services industry, with a background in psychology and mental health, but how in the end, the career of being a successful financial advisor is all about that mental game of preparing yourself, not for the sprint of launching your firm but for the marathon of building a successful practice over the years and decades to come.