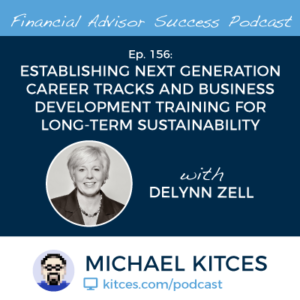 Welcome back to the 156th episode of Financial Advisor Success Podcast!
My guest on today's podcast is DeLynn Zell. DeLynn is the Co-Founder and CEO of Bridgeworth Financial, a hybrid RIA based in Birmingham, Alabama that oversees nearly $1.6 billion of assets under management for almost 2,000 clients.
What's unique about DeLynn and her firm, though, is the way they decided from the start to build an advisory firm that would be sustained past the founders, and have taken steps over the years to establish the necessary career tracks, and equity and compensation structures to attract and retain next-generation talent for the firm in order to be sustainable for the long run.
In this episode, we talk in-depth about the four-tier career track that Bridgeworth has created. From a planning coordinator who focuses on the technical work for a base salary, to associate advisors who are involved with client meetings but also have the responsibility to start networking to establish themselves in the community; lead advisors who have the primary responsibility of relationship management and some incentives for business development; and partners who have not only a heavier responsibility for business development but also a greater financial participation to incentivize their ongoing efforts to keep growing the firm and its equity value.
We also talk about how Bridgeworth structures its compensation for partners. The unique way the firm allocates partner salary based on credits for both their business development and revenue or other leadership responsibilities to compensate their ongoing work in the business as separate from their equity ownership of the profits, which in turn is based on what they originally brought to the business when it was formed, how and why Bridgeworth is reinvesting into the business development training for its next-generation advisors so they too can become eligible to become a partner in the future, and the way the firm is developing advisor teams that each have their own specializations to support their individual business development activities under one common firm-wide umbrella.
And be certain to listen to the end, where DeLynn talks about how, even with the long-term success in the business, it was still incredibly difficult in the early years. Why she thinks in the long run, the advisory business is an especially good fit for women; how the gender split of CFP professionals may shift in the future; and why the most important thing when selecting an advisory firm to build your career is not the firm's compensation or particular role, but instead, its culture and whether it's a place you want to be in the long run, and then to let the role and your opportunity evolve as it may over time in a firm and culture you trust.