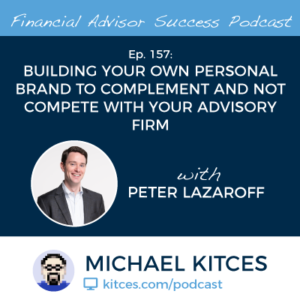 Welcome back to the 157th episode of Financial Advisor Success Podcast!
My guest on today's podcast is Peter Lazaroff. Peter is a shareholder and the co-chief investment officer of Plancorp, an independent RIA based in St. Louis that oversees nearly $4.4 billion of assets under management for almost 1,300 affluent clients.
What's unique about Peter, though, is the way that he's been able to build his own personal brand as he's grown his career, both as a mechanism to build a client base of nearly $100 million of assets under management while still in his 20s and 30s to help him navigate career opportunities as well to build even further.
In this episode, we talk in-depth about how exactly Peter built his personal brand. From simply proactively taking notes on what he was already reading and sharing them with co-workers to launching an email newsletter and pursuing networking meetings as a chance to build his email list, pivoting later to a blog that would further allow him to expand his readership and reach, publishing a book to go even deeper still to reach his target clientele, and how now his personal brand is producing such strong results in generating new clients that his advisory firm is investing into his personal brand to help refine it even further.
We also talk about the practical challenges of building a personal brand inside of a larger advisory firm. Why Peter's original firm was comfortable with him launching a newsletter but concerned about having him own a separate blog, how Peter got his new advisory firm on board with his branding efforts by first spending time writing for the firm's own website to show his value, the way Peter handles his blog content for compliance purposes and why he set up a separate LLC structure to own the intellectual property of his blog content and email list and then licensed it back to his advisory firm, and why Peter, despite the fact that many advisory firms are wary of their employees building personal brands outside of the business, thinks that firms allowing employees to do so will actually have a better chance at attracting and retaining the most ambitious, growth-oriented advisors.
And be certain to listen to the end, where Peter shares why he wishes he had launched his blog website earlier rather than just sending out an email newsletter. The importance of being proactive and getting your firm's leadership and compliance officer on board to be successful in building a personal brand that will complement and not compete with the firm, and the realization that Peter had after getting immersed into the so-called FinTwit community of financial advisors on Twitter, that while it's great to connect with colleagues through blogging and social media, in the end, it's crucial to stay focused on the target clients you want to reach to really have success in the world of blogging and social media.