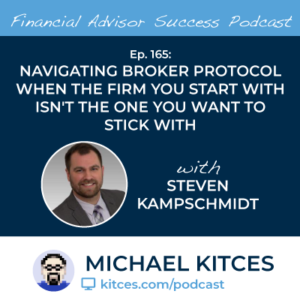 Welcome back to the 165th episode of Financial Advisor Success Podcast!
My guest on today's podcast is Steve Kampschmidt. Steve is the founder of Freedom Found Financial, an independent RIA based in northern New Jersey that oversees just over $20 million in assets under management for 30 affluent clients.
What's unique about Steve, though, is that he just recently formed his advisory firm having broken away from the training program at a major wirehouse after realizing that with an entrepreneurial mindset and a goal of building a lifestyle practice with good work/life balance, it was simply far more economical for him to operate his own firm and control his own expenses than to give the majority of his income up to the grid.
In this episode, we talk in-depth about how Steve built his initial base of clients at the wirehouse through modern cold-calling techniques leveraging ZoomInfo, the salary base that the wirehouse provided while he built his initial base of clients, the type of alternative non-AUM business model he decided he wanted to create that necessitated a shift away from the wirehouse, and why he's now operating with the blend of annual retainer fees and monthly subscription fees for various client types.
We also talk about where Steve went to find the information and consulting support he needed to make the transition smoothly. What Steve actually went through to comply with the Broker Protocol when leaving his firm, the factors that led him to select Fidelity as his custodian of choice, the way he built out his advisor technology stack, and why he chose not to purchase any kind of portfolio performance reporting software and to rely solely on eMoney's financial planning portal instead.
And be certain to listen to the end, where Steve talks about realistic expectations and how many clients will stick with you if you choose to leave a large firm and its national brand, his tips for career-building in the early years especially as a career changer, and why in the end, the biggest key to success is simply having the confidence in yourself, and being willing to make whatever changes it takes to service your clients the way that you want to serve them.